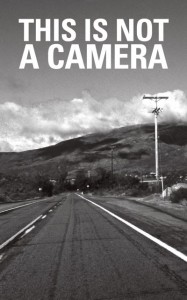 THIS IS NOT A CAMERA provides a behind-the-scenes look at working for an Indian casino in Southern California. It also serves as a companion piece to the novel Forest of Fortune.
"Fucking great zine." Razorcake

"An excellent storyteller… there's a lot to enjoy here." Vol. 1 Brooklyn
"The straight-up honesty, no-bullshit writing, and bulletproof grammar in Jim Ruland's This Is Not A Camera are impeachable." Imprint Culture Lab
* 8″x5″
* 75 pages
* Slick cover
* Black and white
* Professionally printed
* Repurposed promo materials
* Terrible photos
* Fake logos
Order it online from Vermin Enterprises.