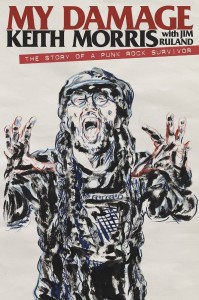 Available from Da Capo Press
In Print: Amazon | Barnes and Noble 
Audio: Audible | Audio CD
Ebook: Kindle | Kobo

Paperback edition of My Damage now available
Keith Morris is a true punk icon. No one else embodies the sound of Southern California hardcore. Morris is known the world over for his take–no–prisoners approach on the stage and his integrity off of it. Over the course of his forty–year career, he's battled diabetes, drug and alcohol addiction, and the record industry.
My Damage is more than a book about the highs and lows of a punk rock legend, however. It's also a look at rock 'n' roll through the lens of someone who has shared the stage with just about every major figure in the music industry and appeared in cult films like The Decline of Western Civilization and Repo Man. It's a Hollywood story from a native's perspective. My Damage is Keith's streets, his scene, his music—as only he can tell it.
Praise for My Damage
"In his compelling, unexpectedly moving, and all-around badass memoir My Damage, punk-rock legend Keith Morris lays bare what it means to be punk." —Esquire
"Parses a rough childhood of being bullied and clashing with his father, tells stories of drug abuse mixed with managing diabetes, and provides an inside look at the fragility and jealousies that have torn apart some of the American underground's most vital bands."
—Rolling Stone
"My Damage is a celebration of that punk rock work ethic, a story of maintenance and perseverance as told by one of the hardest working men in the punk underground."
—Ryan Bray, The A.V. Club
"Keith Morris' new memoir is just as raw, fast and fucked up as one of his songs."
—Peter Holslin, L.A.  Weekly
"Hands down, it's one of the best books about the Los Angeles music scene."—Jaime Pina, Punk Globe
"My Damage has emerged as one of the most important, and most hilariously quotable books ever written about punk rock."—Bob Lee, The Los Angeles Beat
"Fans of punk rock will get the most out of the book, and those interested in the music industry in general will also appreciate Morris' candor as he details the machinations and manipulations he's encountered over the years—up to the present day, as he's still recording and touring—in this roller coaster of a book."—Publisher's Weekly
"[A] riveting memoir filled with stories of excess, blackouts, near misses and bad decisions."—Decibel Magazine
"The book is characterized by sharp wit, abundant empathy, and the wisdom of a man who has outrun his many demons, pelting by like an afternoon with a particularly garrulous storyteller."—MOJO
"Morris is a born raconteur who handles youthful abandon, drink-and-drug-dominated despair and latter day wisdom with the same sure touch."—RTÉ
"Keith Morris is a human firecracker. You can literally hear his leg kicking under the table as you rip through the pages. If his life were the bars, these words are the file hidden in the cake. He is as truthful as funny and if you don't read this book you might as well join an REO Speedwagon cover band."—Ryan Adams
"Keith Morris, survivor of bouncers and blacklisters, thrown down the stairs yet still standing tall, damaged, patched up, last laugher of all, this is the punk rock story I've always wanted to hear."—Exene Cervenka of X
"In My Damage, Keith Morris lets loose with a shotgun blast of funny, often harrowing vignettes/opinions in every chapter, chronicling growing up in Los Angeles' South Bay and the evolution of not just Southern California punk (and his part) but rock music in general, from the late 1960s up to the present. I found it so readable I finished half the book in one night's sitting."—Chris D. of The Flesh Eaters
"Even though Keith was so wasted most of the time, that nebb'd up surfer who lived on the strand made me want to be a punk singer."—Greg Graffin of Bad Religion
"I came late to Southern California and its Punk Rock scene, but after reading Keith Morris's memoir I feel I was there from the start. My Damage is like Neal Cassady's The First Third read aloud by William Burroughs for his private enjoyment: clear and unapologetic as a bell, fast as you can go, a rolling dumpster on fire, and a treasure trove for any student of West Coast Punk history. Lonely, funny, brave, tragic, anonymous, and famous all at once, until the moon disappears and everything goes to sleep. And wakes up again to dream a new song."—Viggo Mortensen
"Kill your idols, please. Check that tired rock star shit at the door. Keith Morris is nothing less than a living, breathing symbol. He's a snot-voiced, Southern California archetype and prototype, an influential fuckup whose ripple effect in punk has been felt every single day since he spat out, 'I'm about to have a nervous breakdown' in 1979. Without My Damage's middle-finger shaped piece snapped into place, no history of L.A.'s punk rock puzzle is complete."—Todd Taylor, Razorcake
Reviews
Inner Edge Music
RTÉ
Coachelle Valley Independent
No Echo
Razorcake
Angel City Review
Under the Radar
Memphis Flyer
The Good Men Project
Flagstaff Live
The Austin Chronicle
American Statesman
Innocent Words
CultureSonar
Postcards from a Dying World
Critical Angst
Punk Globe
Punk Guru
Record Collector
Punk News (Staff Pick)
Exclaim
The A.V. Club
L.A. Weekly
Publisher's Weekly
Midnight to Six
Interviews
The Vinyl Guide (audio)
Submerge
Activate
The Los Angeles Beat
Slug Magazine
Conversations with Bianca (audio)
@Night with Dan Riendeau (audio)
Radio Valencia with DJ Naked Rob (audio)
Dangerous Darrin with Darrin Pfeiffer of Goldfinger (audio)
Punk News
Esquire
Rolling Stone
Decibel Magazine
San Diego CityBeat
KCRW Press Play with Madeleine Brand (audio)
Juice Magazine with Jeff Ho (video)
Green Room Radio with Shawna Kenney
News
The Los Angeles Beat: Surviving Punk Rock at the Los Angeles Times Festival of Books
Dennis Cooper: My favorite fiction, poetry, nonfiction, film, music, art & internet of 2016
The Federalist: Notable Books of 2016
Pop Dose: Five music-related memoirs for the music lover in your life
Sad Punks: Keith Morris's post-election playlist (audio)
Men's Journal: The books that changed my life
About Great Books: 30 Great Rock Memoirs
Los Angeles Daily News: This is what LA punk was all about
Bazillion Points: Keith Morris ventures out with new autobiography
Team Rock: 14 things we learned from punk legend Keith Morris' new book
Riot Fest: Keith Morris releases new memoir
The Los Angeles Beat: Keith Morris launches My Damage
LAist: A bevy of new books chronicle L.A.'s vital yet underappreciated punk scene
L.A. Weekly: Keith Morris discusses My Damage 
Vol. 1 Brooklyn: August 2016 Book Preview
Bright Youngest Things: Your Best Month: August
Vive Le Rock: Black Flag founder tells his story
Detroit Metro Times: Capture the FLAG: Keith Morris on growing up in punk
Blabbermouth: Keith Morris lands publishing deal
Dying Scene: Keith Morris to release autobiography
Rest Assured: Keith Morris to release My Damage
Excerpts
Cuepoint: The Seeds of Black Flag Were Planted at a Journey Concert
Barnes & Noble Readouts: Crash
Video
My Damage launch at Skylight Books 8/26 by Louis Elovitz
OFF!/FLAG Updates
My Damage book signing and OFF! at Punk Rock Bowling
My Damage West Coast tour kicks off 11/9 in San Francisco
FLAG Facebook page and 2016 summer tour
Watch the OFF! video for "Meet Your God" with Jack Black
Official website for OFF!