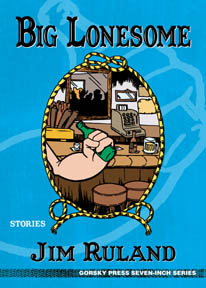 Published 2005 by Gorsky Press
In Print: Amazon | Barnes and Noble | IndieBound
Big Lonesome is a collection of wildly imaginative tales of America's past and present full of hardboiled history and tender-hearted hooligans. Whether he's spinning a lurid yarn about the previous adventures of Popeye, imagining Dick Tracy as a San Fernando Valley police detective, or retelling the story of Little Red Riding Hood in Nazi Germany, Ruland's stories resonate with the truth of lessons learned the hard way.
Praise for Big Lonesome
"Jim Ruland's stories are dangerous things, full of grim human comedy. His sentences power along with raucous precision and his characters rarely fail to surprise. This is a wonderful debut."
–Sam Lipsyte
"Here's a writer with guts and heart and vision, someone to remind us of the possibilities of fiction. Big Lonesome is strange and exciting."
–Chris Bachelder
"It's Ruland's gleeful ability to stomp on icons that makes him fun to read and which gives his collection the flavor of being hit in the face with a stiff slam-pit elbow, but it's his bone-serious looks at the wars we fight — both with guns and tanks and on the surface of our minds — that show the most promise."
–Tod Goldberg
"There are no disappointments in this collection; each story offers something different while displaying a mastery of language and an empathetic understanding of what makes us human. Ruland is a remarkable writer who has produced a debut collection that cannot be ignored."
–Daniel Olivas
News
"Kessler Has No Lucky Pants" appears in the California Prose Directory. The anthology was edited by J. Ryan Stradal and features work by Joshua Mohr, Wendy Ortiz, Zoe Ruiz Jerry Stahl and many others. Kessler is also mentioned in this review by Ashley Perez.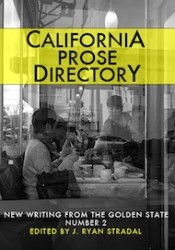 Interviews
Reviews
Pop Matters
Boing Boing
Askew Reviews
The Syntax of Things
Quarterly Conversation
This Blog Will Change Your Life

Excerpts
Night Soil Man
Kessler Has No Lucky Pants
The Previous Adventures of Popeye the Sailor